On my first adventure to go shopping with my mom, I traveled far and wide (meaning across the street… I'm lazy!) to go to find instant "I love it!" clothes for going back to school. 
We went to a few places to pick out at least the style of what I wanted even if it didn't fit right or cost way more than I can fit in with a reasonable budget. 
These places are varied in their prices, styles of clothing, and back-to-school readiness (summer sales v. already selling fall clothes), and included:
GAP
Macy's 
American Eagle Outfitters
Express
Nordstrom
Let's get started, shall we? 
#1 Victoria's Secret PINK
Doesn't that look like such a great hoodie? It's eye-catching, it's the PINK brand, and it's super comfortable. Look again.
That price tag is something that drags it down. Many are willing to pay that much just for the PINK part, but Forever 21 and Macy's offer up some pretty competitive hoodies and clothing  for much less. Well, it was worth a shot, Victoria. 
Victoria's secret must be when actual sales happen… who knows when they happen? The only time I saw a sale in that store was on Black Friday, when prices were cut about 10%. Compared to the 20% Macy's coupons that my house receives pretty much daily, I think it's best to get one super cute piece of clothing from this store instead of buying many. 
The yoga pants are (to me!) the best investment in the PINK store. They are super cozy, and I wish I had one for every day of the week.    
 Doesn't she look happy? It's probably the yoga pants she's wearing. 
BOTTOM LINE: This store is expensive, and that's partly why it's popular. Pick a couple pieces of clothing from this store because it's super comfy and cute, but don't overdo the PINK-ness or you might end up losing your budget on one store! 
Mom's Opinion: 
I agree with Ivana,  the hoodies and yoga pants are  too expensive. When PINK and Victoria Secrets starts showing girls and women of all sizes, I will be happy to shop there. Makes me sad to see a store that doesn't includes women of all sizes in their products and Ads. 
#2 GAP
Another slightly expensive store, but it has it's ups and downs in prices. If you are still shopping for summer, the sale prices for the summer clothes can't be beat. 
However, if you're looking for fall styles, I'd wait for better deals.
However, this time, I tried on a new trend… the boyfriend jean.  My size was missing, so I went up and down a size, trying both, and I had similar problems. The front was way too tight and starchy, and the butt was baggy and unflattering, so I ended up walking like a robot and wondering who could actually fit in them.
BOTTOM LINE: Some of the relaxed looking clothing seemed to be too expensive, and the fit of the jeans was strange, but I'd come back to find the deals on this clothing later in the fall for less.
Mom's opinion: Too expensive for clothing that even though it looks practical and modern, it looks boring, wrinkled and with no personality. They need to go back to the table and bring something new.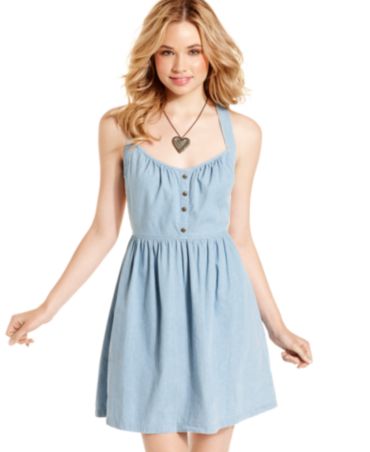 #3 Macy's
Now we've arrived at the store who seems to have every kind of style of clothing you'd ever need. The juniors section is huge and takes a while to go through.
I do really like the American Rag line in the Juniors section, but sadly, it's the most expensive brand, which stinks!  
However, thanks to the lovely coupons and One Day sales they have, the clothes are much more affordable and work well for school. 
This dress caught my eye, and I couldn't help but love it. Another fitting size problem-o happened when the top of the dress was too big and the bottom a perfect fit.  It's perfect for school and also had the magical S-A-L-E tag on it!
 Maybe since it isn't expensive, I can get it fitted better. That's a definite plus!
BOTTOM LINE: AFTER you get your coupons in the mail, go to Macy's. You can get the best deals if you wait for a One Day sale AND use your coupons. Sneaky, right?
Mom's opinion:  I agree with Ivana, but the service was horrible. We were alone walking through over crowded racks. Not good customer service and they should show more teen age girls with different forms and sizes. I never like the decorations and lighting in their fitting rooms. Makes me feel down in the dumps.
#4 American Eagle Outfitters
This beautiful store is one of my favorites, with beach-y, California-y pieces that always look cool and relaxed. Still, it is very expensive. The best places to find cute pieces to last a long time is the sale racks in the back of the store. I'd head there before checking out the front of the store. 
I got sucked into the front of the store, and found this cute piece I couldn't live without, much to my mom's dislike.   
 Isn't it great? It's classic and pretty and delicate, AND sadly for my budget, expensive. The price for the shirt was really too much for it, but I got attached too soon before looking in the back.  
 This store is good for summer-y clothes that are light and airy, but not so good for wintry pieces that you need to bundle up on.
BOTTOM LINE: In this store, along with many, go from the back to the front. The sales are often really good, but the prices in the front really high. Also, wait until late fall to get the best deals on cold-weather clothes.
Mom's opinion:  I like the store, but it's too expensive to have the California look and once again, their ads should show teenagers with more diversity, and this story seems very exclusive in a world where diversity is the 21st century's motto.
  #5 Express
This store is a big disco-ball of a shop, with sparkly and shiny clothes everywhere. This isn't really the best store for school clothes, but for party clothes, with great dresses and mini skirts. 
 I went to see the jeans, since that is something needed for fall. I got the REGULAR length of jeans which ended up being so long they were halfway down my feet! The average height of an American woman is 5'3″! How can regular be so model-sized?
 I was looking just like the picture, with the jeans completely covering my feet. So, I tried the SHORT jeans, and they were too short! I couldn't find anything in between!
 After visiting the sale racks in the back, I picked a purple top to wear over leggings or skinny jeans. I expected over-sized, but I got SUPER-sized! Since the only size was XL, I ended up looking like a purple napkin, being swallowed up by the shirt! 
BOTTOM LINE: This store is more for picking out the perfect party clothing, but less for picking out school clothing. The jeans are model-size and just didn't fit right!
Mom's opinion:  It's a store for parties and thin people. You can find a piece to go to a party, but all clothing is to partyyyy!!!! C'mon. Is a store not for the "average" size and for girls that like to party, but also work.
 #6 Nordstrom
  This (to me!) is the perfect store, with all the clothes and the shoe section going on   endlessly. I LOVE that shoe section! 
  There is all anyone would ever want in a closet, except… it is SUPER expensive!  
  But let's just look at that shoe section to feel better.
Ahhhhh… so much better! 
The clothes in the Juniors section are the best you'll find in all department stores, with unfortunately steep prices. 
We had to go to the city to go on a bike trip with a friend, and she and my mom happened to pull out this beautiful, sporty jacket! it's colorful, energetic, and it looks… around $60? 
Think again… $138! Ahhhh!!!! 
This is definitely NOT a budget store, and I highly recommend not going through the shoe section if on one. That's a dangerous idea! Too many tempting shoes everywhere!
 BOTTOM LINE: If you are on a budget and don't want to wander around the endless shoe section or through the pricy clothing racks, go to the glorious restaurant and try some pizza.
 Store browsing makes me hungry!

Mom's Opinion: I love this store because when I get tired of looking their beautiful clothing, I sit on a comfortable sofa and starts browsing for news on my phone that brings me back to reality that I can't not afford $680 pair of shoes. As a Latina woman, sadly I don't find  "nada" here, but I DO love their food!
BOTTOMEST LINE: Here are some tactics that usually work for me:  
-Investigate beforehand (go online!) and have an idea of what you want to buy before you go wandering through a department store. 
-Start from the sale racks and THEN go to the expensive displays in the front… you'll be smarter about your budget this way!
 -Be patient… especially in disco-ball sparkly stores! I was getting tired and annoyed halfway through, and didn't really help anyone.  
 -Go with a friend or someone you trust to get the most accurate opinion of your clothes. Moms do the trick! 
– Ivana M2
MOM'S BOTTOMEST LINE: Breathe deep. The shopping has just started.
-Mama